Rough Wood
Timber logs are procured and are left in storage for up to a year to dry naturally. After the drying period, logs are sawn into planks and boards. These planks and boards may be dried for another six months. Once the planks and boards are suitably dry, they are ready to be used for furniture fabrication.
The rough planks are cut and smoothed (or made plane)
Dimensioned Wood
Boards are cut into appropriate dimension for the piece being built – individual structural components of the furniture body (top, bottom, sides, doors)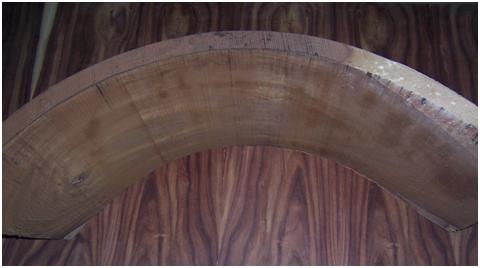 Curved Doors
Some structural components require additional processing steps. For this particular piece, the doors were molded and bent into a convex shape. This was accomplished by wetting the planks, molding, and drying them to get the desired shape.
Handcarved Design
The doors of this piece featured hand carving. The carving was performed on convex solid-wood doors.
Raw Handcarved Door
Unfinished hand carving on doors. Carving "fades" over the length of the door. Doors are convex in shape.
Custom-Made Copper Feet
This piece also featured custom-made copper-plated feet. First, the feet were fashioned out of a solid piece of wood.